New Homes For Sale in Winnipeg and Surrounding Area
If a custom build doesn't fit into your schedule, Artista Homes has the following new homes that are ready for immediate possession, in the construction stage, or on the verge of being built and may be just what you're looking for.
To view development maps, guidelines, etc., I have included the links to the community developers' websites under each development. For the Winnipeg developments, I have also included the links to the neighbourhoods they are located in from the CIty of Winnipeg's NOW Neighbourhoods of Winnipeg website where you can find additional information including schools, libraries, census, demographic information, etc. For communities located outside the perimeter, I have included the links to the rural municipalities (RM) they are located in.
Amber Gates - Winnipeg Northwest
Genstar - Amber Gates / NOW - Leila North Neighbourhood
167 Tennant Gate - To be built
191 Tennant Gate - Immediate Possession - View listing
Click on feature sheets to enlarge
BonaVista - Winnipeg Southeast
Genstar - BonaVista / NOW - Fraipont Neighbourhood
91 Bonaventure Drive W - Fall 2017 Possession - SOLD
21 Bow Water Drive - Walkout bungalow - Fall 2018 Possession
41 Bow Water Drive - To be built - To be built
49 Bow Water Drive - Show Home - View video - View listing
Click on feature sheets to enlarge
Bridgwater Forest - Winnipeg Southwest
Bridgwater Forest Development / NOW - Bridgwater Forest Neighbourhood
145 Highland Creek Road - Target Possession Fall 2017 - View listing
Click on feature sheet to enlarge
Bridgwater Lakes - Winnipeg Southwest
Bridgwater Lakes Development / NOW - Bridgwater Lakes Neighbourhood
324 Creekside Road - Target Possession Fall 2018 - View listing
40 Willow Brook Road - Show Home on walkout lake lot - SOLD
Click on feature sheet to enlarge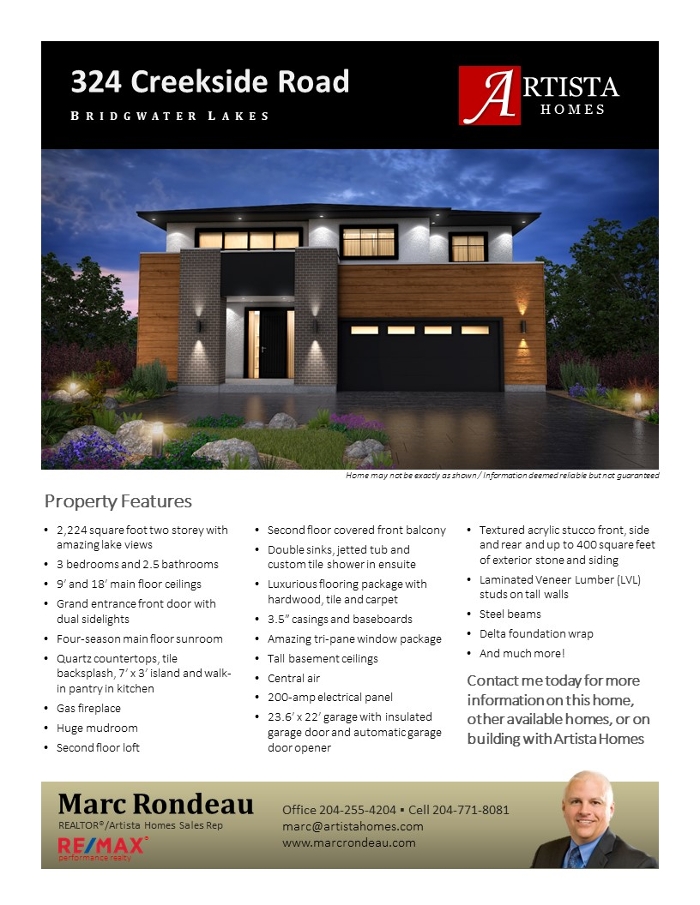 Bridgwater Trails - Winnipeg Southwest
Bridgwater Trails Development / NOW - Bridgwater Trails Neighbourhood
10 Willow Creek Road - Target Possession Fall 2017 - SOLD
209 Willow Creek Road - Show Home (2,122 sq ft Two-Storey 3 bed/2.5 bath) - View listing
Click on feature sheet to enlarge
Oak Bluff West - Oak Bluff
Qualico Communities / Oak Bluff - RM of Macdonald
4 Carlington Crescent - Target Possession Summer 2018
21 Carlington Crescent - Pie-shaped lot - Target Possession Summer 2018
19 Dovetail Crescent - Target Possession Spring 2018 - View listing
31 Dovetail Crescent - Target Possession Jan/Feb 2018 - View listing
10 Prairie Grass Lane - Show Home with three-car garage on large lot
Click on feature sheets to enlarge
Prairie View Lakes - La Salle
Ventura Land Company / La Salle - RM of Macdonald
Click on feature sheet to enlarge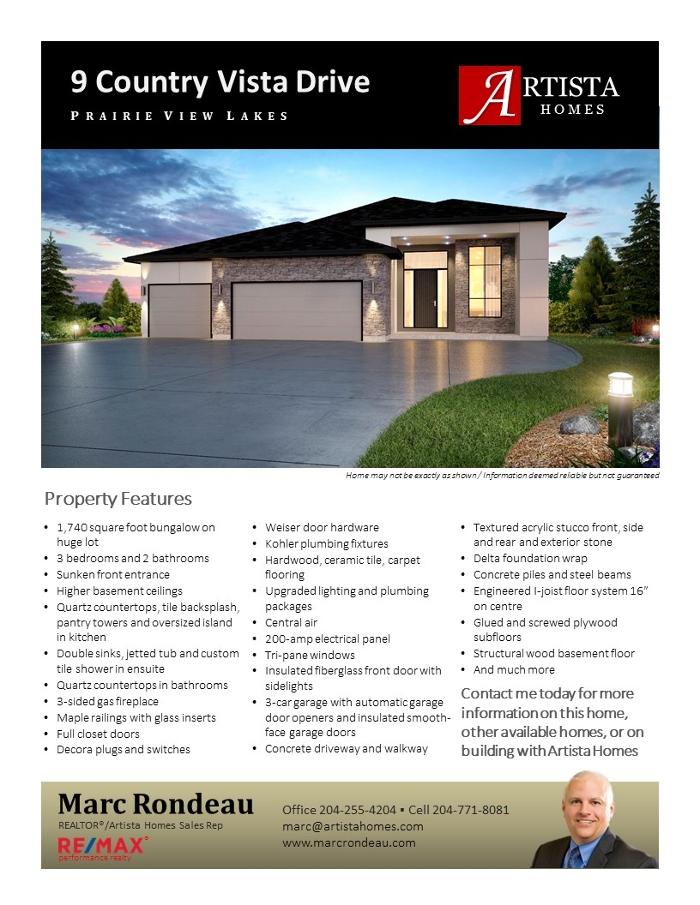 Ridgewood West - Winnipeg Southwest (Charleswood)
Qualico Communities / NOW - Ridgedale South Neighbourhood
23 Chaikoski Court - Show Home - SOLD
86 Hofsted Drive - Fall 2017 Possession - View listing
98 Hofsted Drive - Late Fall 2017 Target Possession - View listing
119 Hofsted Drive - 1,652 sq ft bungalow - Late Summer 2018 Target Possession - View listing
131 Hofsted Drive - 1,890 sq ft two storey - Late Summer 2018 Target Possession - View listing
Click on feature sheets to enlarge
River Park South - Winnipeg Southeast
Qualico Communities / NOW - River Park South Neighbourhood
54 Tilstone Bay - Construction to begin soon - 1,706 sq ft raised bungalow
66 Tilstone Bay - Construction to begin soon - 1,890 sq ft two storey
67 Tilstone Bay - Target Possession Spring 2018 - SOLD
Click on feature sheet to enlarge
Sage Creek - Winnipeg Southeast
Qualico Communities / NOW - Sage Creek Neighbourhood
26 East Plains Drive - Show Home - Contact me for more information
75 East Plains Drive - Target Possession Spring 2018
86 East Plains Drive - Target Possession Late Fall 2018
Click on feature sheets to enlarge
South Pointe - Winnipeg Southwest (Waverley West)
NOW - South Pointe Neighbourhood
59 Manipogo Bay - Spring 2018 Possession - View listing
35 Trailside Crescent - Gold Award Winner Fall 2016 Parade of Homes - SOLD
Click on feature sheet to enlarge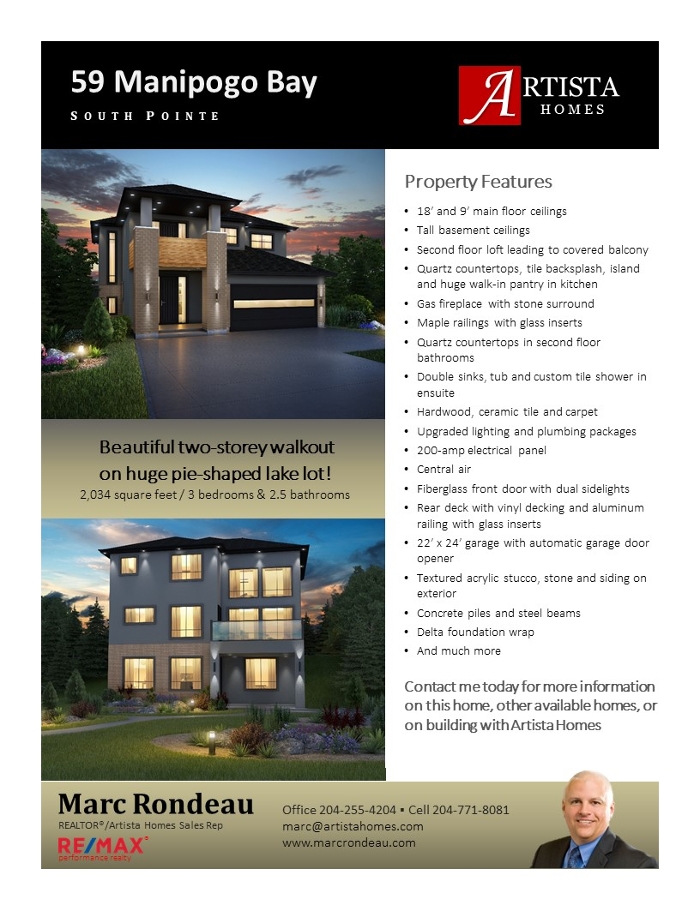 Taylor Farm - RM of Headingly
Qualico Communities / RM of Headingley
94 Fetterly Way - Fall 2017 Possession - View listing
9 Southdown Lane - Show Home - Spring 2018 Possession
Click on feature sheets to enlarge
South Tuxedo (Winnipeg Southwest)
2 Ike Kraut Place - Contact me for more information
18 Ike Kraut Place - View listing
Artista Homes has additional lots for sale in Tuxedo - View listing